Shanghai Sanqiang has a competent team of trained specialists who develop customized test plans and qualification protocols in close cooperation with the customer.
All qualification documents are designed in accordance with the cGMP guidelines, DIN EN ISO 9001:2000 international quality standards and recommendations by the FDA.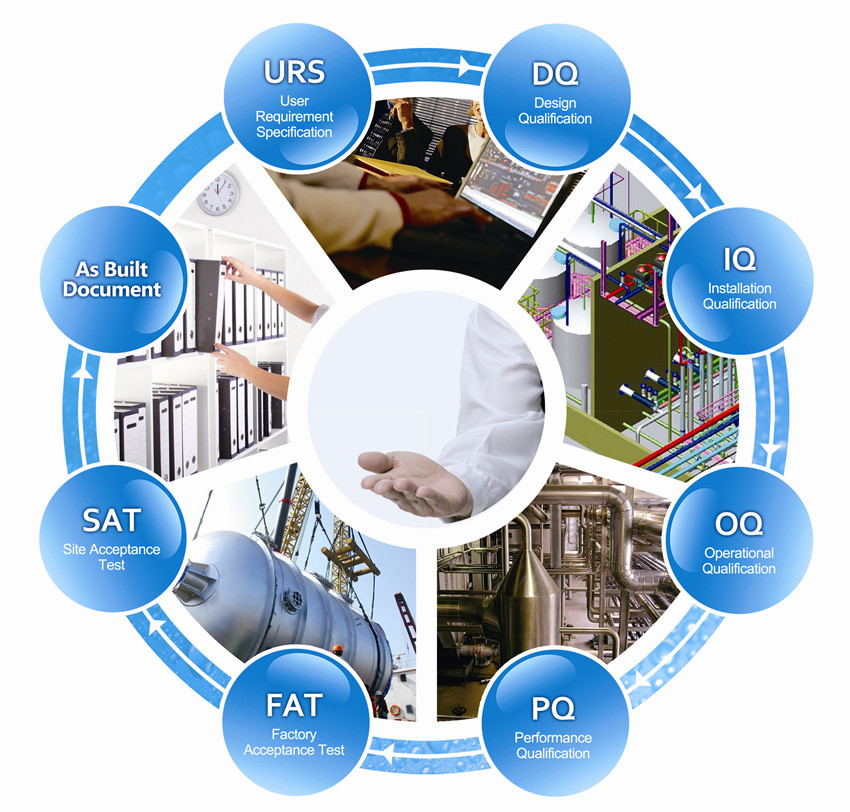 The design qualification (DQ) is the first step to determine the conditions of the IQ/OQ test and consists of the evaluation of the system design according the User Requirement Specifications (URS).
In case the system is built in our premises a FAT (Factory Acceptance Test), is carried out in the presence of the customer following the qualification protocol produced to guaranteeing correct installation and operation of the equipment.
During the SAT (Site Acceptance Test) the qualification protocol has the objective to verify and confirm the optimum operation of the unit in its final position.
The Installation Qualification (IQ) documents that the machine is installed according to what is specified by the DQ requirements and that all components, which are relevant for the operation of the machine, are present and meet their intended specifications.

Typical areas for IQ testing are:
· components critical to the process
· controls systems and loops
· change parts
· PC and PLC hardware
· utility connections
· loop tests
The operational qualification (OQ) has to prove in detailed tests, that all critical operation parameters are within the defined ranges. All testing is recorded and described in detail:
· Safety functions
· Machine functions
· Operator interface
The Performance Qualification (PQ) has to verify that the system performance satisfies all requirements including the critical quality attributes and critical process parameters that have been specified in the URS.PQ is the final step to formally test and document proper performance of the system prior to normal operation.
The entire qualification process is carefully drawn up and documented to provide a complete report, which is easy to navigate and understand.
After the qualification process, a complete technical documentaion is generated, comprised of:
· Design Calculations and Simulation Output
· Process Flow Diagram
· Process and Instrument Diagrams
· Vessel Drawings and Equipment Specification Sheets
· Equipment General Arrangements
· Piping Plan Drawings & Isometrics
· 3-D Model of Entire System
· Structural Steel Drawings
· Electrical Drawings and Instrument Package
· Operating, Maintenance and Installation Manuals