Since 2006, Shanghai Sanqiang has designed and developed modular plants acquiring experience related to a variety of technologies and across several industries including cosmetic, food & beverage, pharmaceutical, energy and water treatment. Shanghai Sanqiang's engineering capabilities include multi-disciplined process, project, mechanical, control and electrical engineers.
Shanghai Sanqiang adopts the modular concept to a variety of applications that ranges from single module, lab scale systems to pre-built multi-modular process plants. As a single source supplier, Shanghai Sanqiang takes total responsibility for each step in the project. From the initial planning stages until the plant start operating, Shanghai Sanqiang services include:
· Pre-engineering consulting
· Cost estimation & feasibility studies
· Front-end engineering design
· Complete Detailed Design (Detailed process design, Mechanical design, Structural design, Hardware specification):
Sanqiang creates a comprehensive 3D model of the plant showing the structural steel and the major process
equipments. Sanqiang engineers then use this model to complete piping design and pipe stress analysis, as
well as conduit routing for electrical cables
· Equipment Specification and Procurement
· Control System Development & Process Automation
· Fabrication
· Integration
· Installation
· Factory Acceptance Test
· On-site reassembly & Site Acceptance Test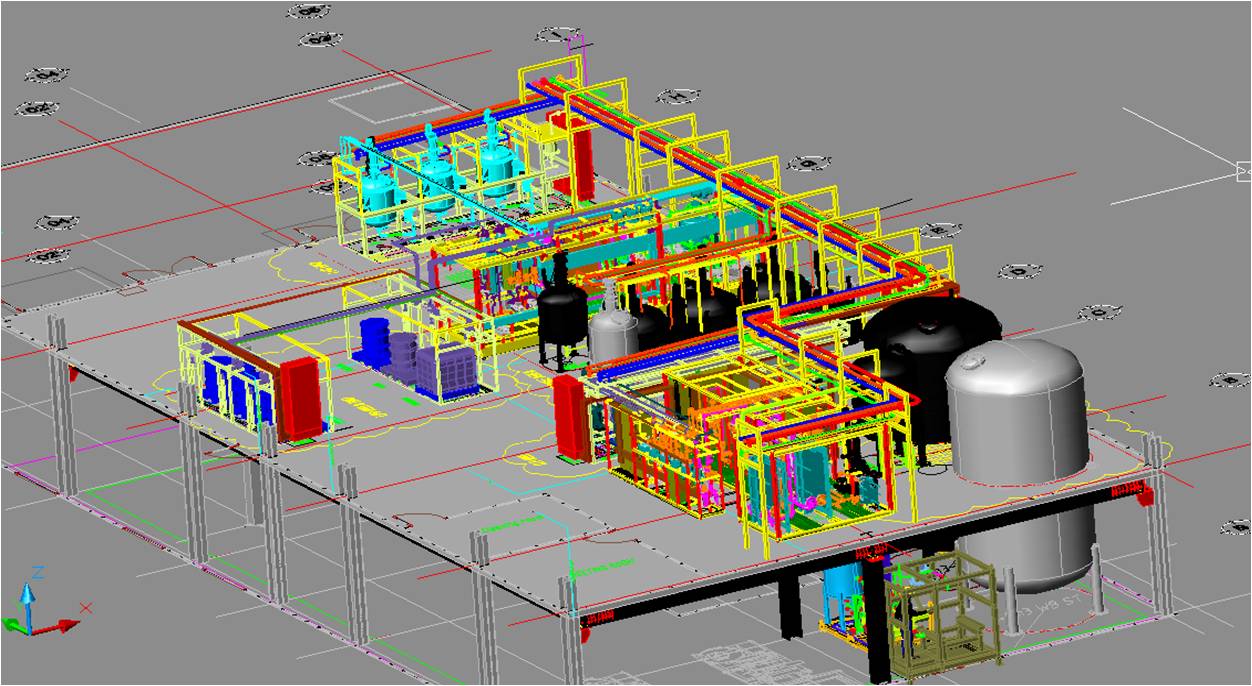 By taking advantage of the higher efficiencies and quality gained by constructing plants in a shop facility, and by minimizing the field work normally associated with site construction, modular fabrication benefits customers in a number of ways:
Reducing costs
· Modules are built faster leading to less labor and material costs
· For multi-unit projects, optimization is achieved by designing once and building duplicates
· Off-site construction is not impacted by weather conditions and construction activities at customer's site
· Customers do not need to interrupt or shut-down pre-existing operations
Quickening time to market
· On-site facilities preparation goes in parallel with the fabrication of process system
· Ideal for market test, modular plant can be easily relocated
· Potential delays caused by weather conditions and site activities are avoided
· Start-up time is minimized since modules are shipped fully assembled and tested with all utility systems pre-installed
· Implementing process changes is easier while the project continues moving forward, towards completion
Improvlng safety
· Producing in Sanqiang factory reduces safety risks associated to on site fabrication
· A smaller number of workers is utilized for on site operations
· Process systems are fully tested prior to shipment, avoiding re-fabrication on site during start up
Selecting Sanqiang as engineering partner for process plants allows for more stringent quality control, shorter project schedules and reduced costs. The advantages of modular fabrication make it an effective alternative to traditional construction because it results in capital efficiency, increased safety, and faster time to market.