Who we are
Shanghai Sanqiang specializes in liquid process engineering solutions for the pharmaceutical, food & beverage, cosmetic and chemical industries.
Shanghai Sanqiang Group consists of Shanghai Sanqiang Engineering Technology Co., Ltd, Shanghai Sanqiang Vessel Nantong Co., Ltd, and Shanghai Sanqiang Nantong Pharmaceutical Equipment Co,. Ltd., with a turnover of 30 million USD in 2012 and 450 employees.
Shanghai Sanqiang offers a one-stop shop for all the requirements of fluid processing systems. Shanghai Sanqiang wide range of products combined with its extensive engineering capabilities allows to provide seamlessly integrated solutions to meet any client need.
In order to satisfy the high requirements of its customers, Shanghai Sanqiang operates 2 manufacturing plants covering over 120,000 m2 equipped with the latest engineering and manufacturing technologies. By utilizing advanced manufacturing procedures and strict quality control, Shanghai Sanqiang has built a reputation for consistent excellence in design and manufacturing.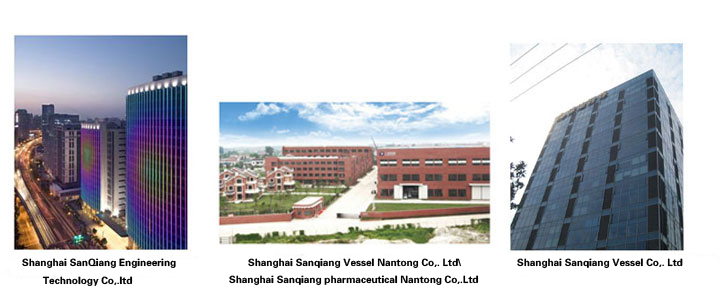 What we offer
Stainless steel pressure vessel: We design and manufacture a wide range of stainless steel processing vessels and equipments, including Mixing tank, Storage tank, Hastelloy alloy tank, Condenser, Agitator, Powder equipment, Heat exchanger.

Modular process plant system : Sanqiang adopts the modular concept to a variety of applications, covering all aspects of liquid processing line, that ranges from single module, lab scale systems to pre-built multi-modular process plants.

Complete EPC project: We deliver turnkey solutions for production processing lines. We offer a full service capability, tailored to suit customer's specific requirements from concept to commissioning.
Market experience
Since 2000, we are building up our expertise and established our core competence in selected markets and industries:
Pharmaceutical and Bio-Pharma industry: we work with national and international enterprises for extensive and in-depth technical requirement, which makes our design and product fully fit the higher demand for new GMP sterility. We also provide liquid high-end solution for fermentation system, liquid mixing system, aseptic material medicine, vaccines, infusion, water injection, lyophilized powder.


Food & Beverage industry: With a specialized focus on the food & beverage industry since our beginning in 2000, we have developed deep expertise in the high-end requirements of processing facilities, including stainless steel vessels, CIP, dosing, filtering and sanitation systems and the wide range of regulations and standards. That's why many of the world's leading food and beverage companies have trusted us to design and build their processing plants.


Daily chemical & cosmetic industry: Sanqiang's great success in cosmetic market owns much to its special modular plant concept. With a critical focus on daily chemical and cosmetic industry, we provide complete modular process systems to leading cosmetic companies. Up to now, our modular solutions have been exported to more than 26 countries.


Other industries Sanqiang also provides various liquid process solutions in other fields, such as water treatment, chemical, energy systems.

Our Standard


GMP/FDA
Sanitary Piping welding standard ASME BPE
Steel structure standard: GB50205,
Carbon steel structure welding standard: AWSD1.1
Stainless steel structure welding standard: AWSD1.6


Certificates & License


ASME U Stamp Authorization
ISO9001 Conformity of Quality Management System Certificate
Pressure Vessel Design license: D1 & D2
Pressure Vessel Manufacture license D1 & D2
Pressure Piping Assembling GC2
Pressure Vessel Manufacture license A1 & A2
Mechanical & Electrical Engineering Installation Certificate Grade 3